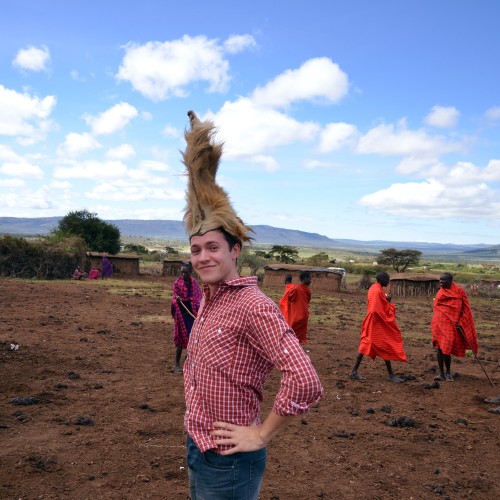 Next to the national park was a traditional Maasai Village that we visited; their income comes practically solely from tourism, which might make it all a thin façade. But they are the most conservative civilization I've ever heard of, and they still live their lives just as their ancestors did hundreds of years ago which made us learn lots despite their shift of primary income.
When we got back to the guesthouse yesterday evening, Simon (the Maasai with 56 churches that I've mentioned earlier) invited us to stay with him in his village; a "real one" that never takes tourists. So the last weekend in Kenya will Wille and I spend in a house made of cow-dung and sticks, far away from what we would call civilizations. I feel very honoured and really look forward to get there and meet all -real- Maasai.
Picture: Me showing an unconvinced smile wearing a hat made of the mane from a male lion that was killed by some of the villagers as part of the ritual that turns boys into men.