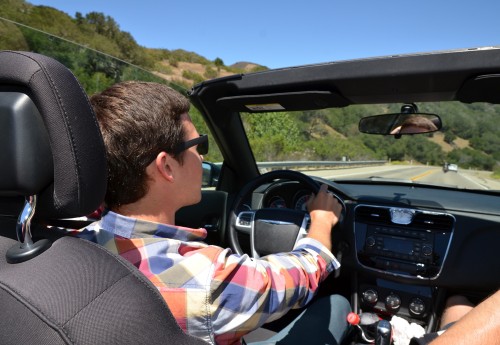 Dear reader,
It has been a while since I wrote to you lastly, thus let me give you a short summary.
I returned to Sweden from Ghana in December 2012, finalized my thesis (see DareAfrica.com if you are interested), graduated and started to work. With exception for a bunch of great weekends and vacations in Finland, Estonia, Netherlands and UK, and of course the amazing roadtrip along the US west coast, I stayed working in Sweden until December 2013.
After lovely days around Christmas with family, relatives and friends in Lund, I left Europe for Asia once more. Twenty days of backpacking in Thailand and Laos with my colleague and friend Frida followed, fantastic days that this blog will return to several times. Meeting up three other colleagues, I made myself ready for a couple of months' work based here in Bangkok; this bustling and smiling city!
Picture of me in our rented convertible from Highway 1 in July 2013.