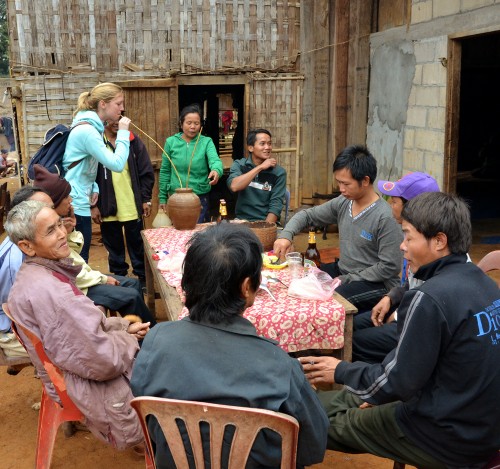 Sorry for the Swedish heading on this post, it's just that the well-suited expression makes no sense direct translated.
As earlier mentioned, my colleague Frida travelled with me during this Asia-visit's first sixteen days; which took us to and around the perfectly-averaged Chiang Mai in northern Thailand, to calm, healing and beautiful Luang Prabang in Laos, and lastly to warm Koh Samet in south-eastern Thailand before we returned to Bangkok.
During our stay in Laos, we went on a full-day hike. As we passed through a small village, we got to try the locals' rice wine as it is supposed to be served: filtered through sawdust in a large clay jar and drunk with a super long bamboo-straw. With such hospitality, one does not remind them that strong alcohol at 9 am is a little so-so.
Picture from the mountains south of Luang Prabang, with Frida sipping liquor for breakfast.