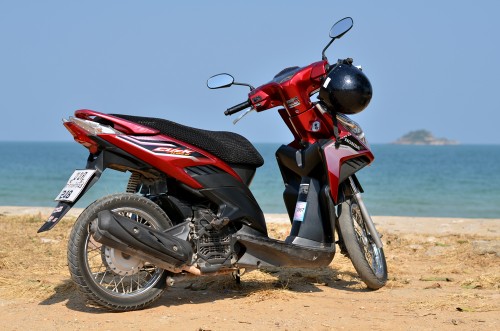 With the ASEAN Economic Community (AEC) that makes the ASEAN countries consider themselves as one single market by 2015 and Thailand being the prevailing car manufacturer; with Thailand's 'first time [car] buyer'-promotion for its people; with the recent termination of Australia's automotive industry; with low labour costs; and lastly with the fact that Thailand still demand 100% import tax on all vehicles manufactured abroad; there is no doubt why all car manufacturers set up production lines in Thailand, each of them with huge capacity. By 2017, the research company HIS expects ASEAN's annual demand exceed 3.3 million cars.
Yet despite the collision safety arguments and the possibility to turn on the air conditioning when queuing, status is the only reason for the Thai (and ASEAN) people to replace their numerous, reliable two-wheelers. I mean, few things makes one feel as free as jumping on top of one's bike and leaving the car queues behind on the way to the beach.
Picture of the 125cc-scooter I rented during a weekend trip to Hua Hin; the capital of retired Swedish seniors.