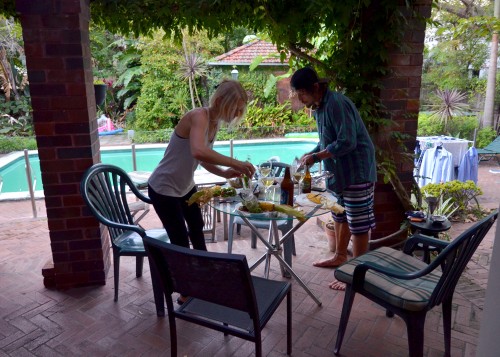 Having the chance to visit Australia, I made sure to meet up with a couple of friends there: Paul (first met him in Bukit Lawang's jungle, watched wild Orang-utans together, and made our way out to paved grounds), Charlotta (a colleague from uni, been studying and partying together in Linköping) and Emelie (met her once at Pablo's place, and listened to her fascinating year driving, literally, around Australia).
My cousin André (who's been living in Australia the last year) happened to be more than a thousand kilometres north of my destinations, thus we will catch up back in Sweden instead. And last but not least, my friend and colleague Olov (see last post for picture), who is also part of the graduate progamme that brought us ten time zones from Sweden.
Really nice to meet up with all of you guys!
Picture of Emelie and Byron preparing for a lovely BBQ dinner in their garden, in Double Bay, Sydney.